Have you tried these yummy cakes from Tuileries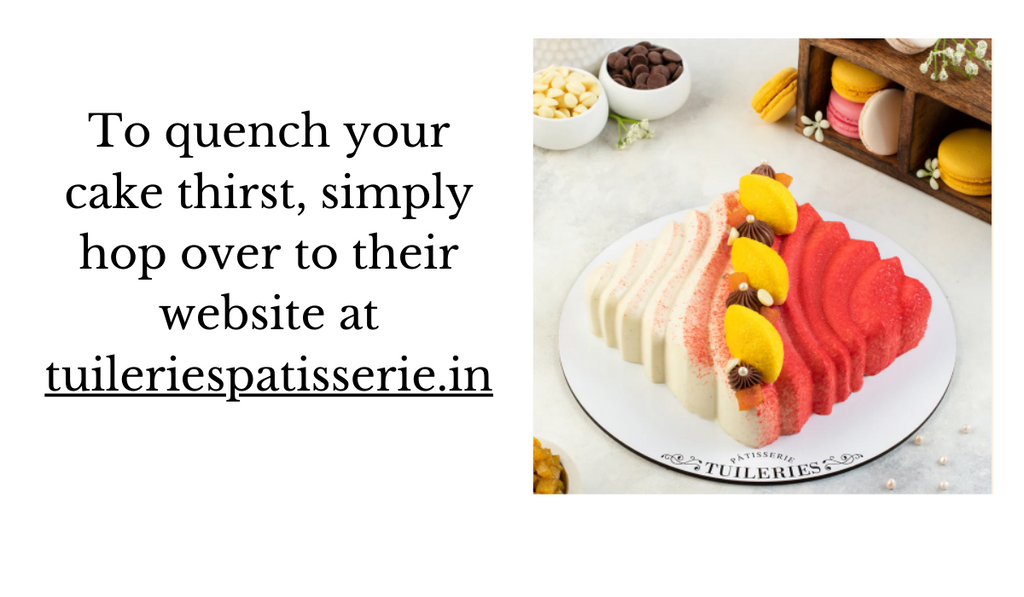 For a festive treat, the Eggless Candied Fruit Gateau Cake is perfect. Picture a delicate vanilla sponge soaked in a rum syrup, heavenly whipped cream, and a vibrant assortment of candied fruits. Each slice is covered with marzipan and fondant, creating a masterpiece worthy of a dessert beauty pageant.
Calling all toffee and butterscotch fanatics, the Customized Eggless Toffee and Butterscotch Entremet Cake is a symphony of flavors that will make your taste buds tango. Crunchy biscuit base, layers of toffee sponge, luscious butterscotch mousse, and velvety toffee cream cheese. It's topped with a shiny toffee glaze, butterscotch chips, and caramelized nuts. A party in your mouth!
Now, let's indulge like royalty with the Cake Royale online. Imagine sinking your teeth into a sumptuous chocolate sponge layered with velvety chocolate mousse. Crowned with a tantalizing hazelnut praline crunch and bathed in a luscious chocolate ganache. It's adorned with a dark chocolate glaze, gold dust, and intricate chocolate decorations. A dessert fit for kings and queens!
Ready to satisfy your cake cravings? Visit Tuileries Patisserie's website and surrender yourself to these delightful creations. Let your taste buds embark on a wild journey through flavor town. You deserve this. Your sweet tooth deserves this. Order your favorite cake today and let Tuileries be your guide to cake heaven.
To quench your cake thirst, simply hop over to their website at
https://www.tuileriespatisserie.in/
.  Embrace the sugar rush, my friends, and let Tuileries satisfy your cravings in the most mouthwatering way possible. Warning: may cause uncontrollable cake obsession and sudden outbursts of "mmm" and "OMG, this is amazing." Enjoy!